Here is a photo of what my first Engagement ring from Dagon looks like, the spider ring, this is a replacement ring that he got me that looks exactly like the first one that got bent and is put up. The spiderweb ring is his Wedding ring. My wedding ring was stolen, but it looked just like his ring. Both rings are sterling silver.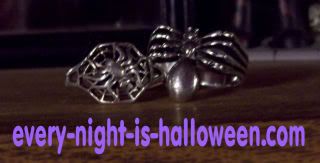 This is a photo of my second Engagement ring from Dagon. He bought it for me because he wanted to get me a more expensive ring and since mine had got bent he got me this one. It's a Neptune's Garden gemstone with ten diamonds on a white gold band. Very pretty.
*I gotta take better photos of all the rings. These didn't turn out very clear.